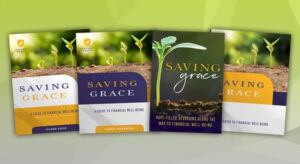 Talking about personal finances is hard, but getting the conversation started doesn't have to be.
Jesus talked a lot about money. So did John Wesley. Saving Grace: A Guide to Financial Well-Being is an exciting new resource that offers laity, clergy, and congregations a Wesleyan perspective on finances and financial planning. The resource reminds us to use our money in ways that reflect our faith.
Saving Grace offers a six-session approach to financial well-being developed primarily for usage in small groups, which can also be used for Wednesday evening programs or even Sunday school classes. How we approach money, use, give, and save is part of our Christian discipleship. The curriculum includes lessons and spiritual principles on saving, earning, giving, spending, and debt.
Christian financial planning resources have been limited for years. Many churches have shared Dave Ramsey's Financial Peace University and others. Saving Grace is set apart because it is developed by a non-profit and promotes Wesleyan values of money, including financial planning as a spiritual practice and avoiding increasing shame many have when it comes to money problems. The resource is also unique because it consists of a devotion, leader guide, financial planning resources, education, and an option specifically developed for clergy.
Read more: A Wesleyan Take on Personal Finance
Saving Grace is fully endorsed by both the Holston Foundation and the Holston Conference Stewardship Committee, in addition to WesPath and The United Methodist Church's Discipleship Ministries.
The Holston Foundation, in partnership with the Holston Conference Board of Ordained Ministry, will introduce the study as part of the Residence in Ministry program for first and second-year provisional elders in September. Clergy will have the opportunity to be part of several small group cohorts focused on Saving Grace via Zoom in early 2022, led by the Holston Foundation. These efforts are part of a larger program spearheaded by the Holston Foundation, in partnership with the Holston Conference, and supported by Wespath and the Lilly Endowment through the Clergy Financial Well-Being Initiative. Stay tuned for more news from this program coming soon!
Contact LeRae Edwards Collins, Holston Foundation director of communications, for a discount code for Saving Grace resources today. Additional Resources:
For additional questions about if Saving Grace is right for your church, contact Rev. Richard Edwards, director of stewardship.