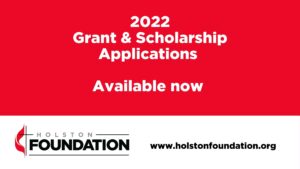 Applications are now available for Holston Foundation grants and scholarships!
Grant applications to support local churches and ministries are due by March 15. Apply here
Higher education scholarships for students are due by April 30. Apply here
Seminary scholarships are due by April 30. Apply here
Students, don't forget about additional scholarship opportunities from the United Methodist Higher Education Foundation (including Dollars for Scholars too). Learn more and apply now
Help us spread the word about these opportunities for support! Share the applications with leaders in your church and students you know.